The ToneWay Music Method
Want to Order?
Please go to our
product index
to purchase this product through Amazon.
This book is an ultra-concise, comprehensive resource for the ToneWay Method. It is ideal for folks who play a string instrument already, even if minimally, and wish to learn how to play it by ear. Interestingly, folks with less musical talent tend to do much better when they switch from sight playing to playing by ear. For folks already playing by ear, the ToneWay Method can deepen their understanding—the "what, how, and why" of it all. Such understanding allows one to easily and quickly pick up and play any of the other string instruments as well.
Briefly, the ToneWay Method demystifies music by showing how all the string instruments, and singing, share fundamental principles. Our ToneWay Picking Patterns and ToneWay Notation help to tie it all together and launch you into a more intuitive 'playing by ear' approach to music.
This book is "descended" from the (now out-of-print) Songbook and ToneWay Music Method book. Most of the songs were split off into another book, and the learning material was updated and expanded, with a whole new section for ukulele added. 36 songs are also included in larger print, with ToneWay Notation for each of them.
I must say, your ToneWay Music Method is the best on the market that I have found for a new or amateur player for bluegrass music. I spent endless hours in the past memorizing notation for picking songs. Within the first few days [of using the ToneWay Method] I can now pick some by ear.

Thanks so much,
Todd Boughan
Learn to Play By Ear
With the ToneWay Music Method®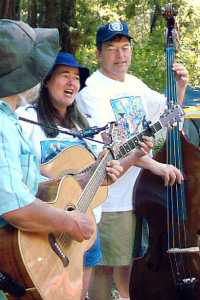 The Toneway Music Method® utilizes the simple 'relative tone' nature of music—which applies to singing and any instrument you'd like to play—to show you the easiest way to play music by ear. So, if you can count to seven, you've got what it takes.
Complete ToneWay Picking Patterns (see Commandment III) are included for guitar, mandolin, fiddle, banjo (three-finger and frailing styles), bass, Dobro, and ukulele (both standard and baritone). Using the Picking Patterns in concert with ToneWay Notation quickly instills in you the 'intuitive picking pattern' you need to play by ear—and in every key, no less! Possibly the greatest advantage of this 'bare-bones' approach over tablature or a standard musical score is that you can't become dependent on it. This 'forces' you to subconsciously and intuitively learn to play by ear, and soon you'll be able to play any melody you know well.
Your method makes playing a lot of fun and I know that I will be enjoying myself while learning . . . if I had your book a few years ago (when I started playing), I would've had a lot more fun with my guitar, and I would have been invited to a lot more jams.

–Jack Gottlob
New Jersey
Hundreds of Song Clips
Listen to them for free!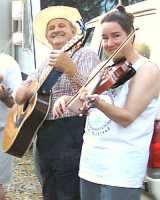 Our minute-long Song Clips are optimized to help you learn the melody, words, and qualities that give each song its unique 'soul'. Three hundred and sixty songs have been recorded—that's more than are in the book!
You don't even need our book to use this resource. Just head over to our songs section and click on a song. Notice the "break" at the end of each song: this is there to give you a chance to try singing the song by yourself, or to practice playing melodies on your instrument.
[The book] has a gentle, supportive, "you can do it" attitude that promotes family-style playing, singing and community . . . An easy, affordable, enjoyable way to play over 300 great tunes!

–Billy Pitrone
Santa Cruz, CA