Free "Get Started" Online Workshop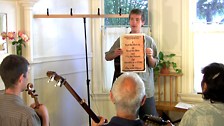 Over two hours of free music instruction; four songs, two keys, and an extensive introduction to the ToneWay Music Method as it applies to the guitar, mandolin, fiddle, banjo, Dobro, ukulele, and singing.
Start here, no matter how experienced you are:
Common Comments
"I've never played before!"
Then you are our target audience! (Of course, folks who already play can still learn plenty from here as well.)
"But I'm TONE DEAF!"
I seriously doubt that. You enjoy music, right? That means you are able to hear the tones. You simply lack the experience needed to "pick them out" and sing/play them. Give our free Get Started workshop a try.
"Music is such hard work."
Not if it's fun. That's the secret to success: make it fun. Best tactic? Play with others. Learn with others!
Music is a non-verbal language that connects people. And learning a language is most fun (and effective) when you can "speak" with others.
Thankfully, you don't have to wait to start learning with others. Whether you're experienced or just starting out, there are lots of folks at your level who are itching to play and learn with you. You just need to find them!